It's Children's Mental Health Week 7-13 February 2022 and we're taking the opportunity to raise awareness of the support available if you feel you or they need it.
There are times when we all feel the strain. As parents and carers, there are ways we can support children and young people to give them the best chance to stay mentally healthy.
Within Gloucestershire there's support available if you feel you or they need it.
Our Child and Adolescent Mental Health Services (CAMHS) provides a comprehensive range of specialist emotional wellbeing and mental health services for all children and young people aged under 18 who are registered with a GP in Gloucestershire – Find out more about services for children and young people here.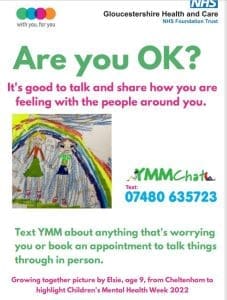 Young Minds Matter (YMM) is a safe and confidential mental health support service developed for children and young people up to 18 years of age in participating schools across Gloucestershire. ​A list of participating schools can be found on the YMM page.
Our YMM team has developed posters for children and young people in primary and senior school as part of the week to encourage them to speak to teachers and to access their support services.
On Your Mind Glos (OYMG) is a mental health support finder for young people in Gloucestershire that will be going live on Monday 7 February.   More will be shared on social media throughout the week.