We're raising awareness of suicide and suicide prevention as part of World Suicide Prevention Day 2021.
World Suicide Prevention Day is held on 10 September each year by the International Association for Suicide Prevention. Each year has a different theme and focus, to bring to light a specific aspect of suicide prevention.
This year's theme is 'Creating Hope Through Action'. Find out more about the event here: WSPD2021 – IASP Use the official hashtags, #WorldSuicidePreventionDay, #WSPD, #bethelight or #WSPD2021 to join the conversation and help spread awareness of suicide prevention.
John Trevains, Gloucestershire Health and Care NHS Foundation Trust Director of Nursing, Therapies & Quality, said: "We're raising awareness of suicide and suicide prevention as part of World Suicide Prevention Day, however we are working alongside our partners throughout the year to provide mental health support and help reduce suicide and self-harm within Gloucestershire.
"If someone is suicidal, they are likely to be feeling cut off from people around them, frightened and maybe even ashamed about wanting to die, desperate for help and sometimes afraid to ask.  But help is available right now if you or someone you know needs it need it; you do not have to struggle with difficult feelings alone. Visit our GHC website for information on who to contact in a crisis, or visit the suicide prevention pages at: www.bewellglos.org.uk for more information about the support available."
It's safe to talk about suicide
Does someone close to you seem really down? Might they be thinking about suicide? The only way to know is to ask. Working alongside Gloucestershire County Council and the Suicide Prevention Partnership, we have developed a leaflet to help support this conversation and to help on what to say and what to do next and to share sources of support. This It's safe to talk leaflet is currently being printed and will be distributed throughout our sites and shared with partner organisations in October.
Quality Lead at Gloucestershire Health and Care NHS Foundation Trust Gordon Benson said: " We hope that this leaflet gives people confidence to engage in a conversation with a someone who may be struggling with thoughts of suicide, and provide both support and information to help them stay safe."
You might also be interested in MIND's guidance on how to offer emotional support: Helping someone talk about suicidal feelings | Mind, the mental health charity – help for mental health problems
Letter of Hope
We are also taking the opportunity to share a 'letter of hope'. This letter is being given to anyone arriving at Gloucestershire's hospitals who has attempted suicide or is experiencing suicidal feelings.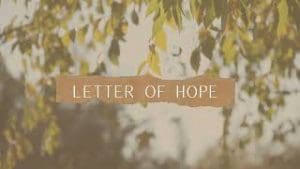 The letter was written by people who have also made attempts to take their own life, or who have supported family members who have made such an attempt. From their unique, personal perspective they are offering words of encouragement and sources of support. Find out more here.
The initiative was introduced in 2018t in partnership with Gloucestershire Hospitals NHS Foundation Trust. Our Quality Lead Gordon Benson said: "The Letter of Hope has been written by people who have been through the same or similar experience as people who arrive at our county's hospitals, having had suicidal thoughts or having made an attempt to end their life.
"It's a very personal letter that only people who have been through these experiences can really write. We hope that the people reading it will take comfort and see things in a different light than perhaps they would after speaking with a health professional.
"It took a great deal of courage for those who wrote the letter to share their feelings in this way and our wish is that it will have a big impact on the readers, ultimately making them feel that there is hope and that they have something to live for".
Watch this short video to hear the Letter of hope, or read the transcript below:
The Letter of Hope

We are a group of people who live locally and, at points in our lives, have been in a similar position to you. We have attempted suicide and have attended A&E, some of us more than once before deciding to give life another chance.

We understand how sometimes the pain, suffering and anguish of your present situation can seem too much, but it needn't be, and you too can choose life and feel good again. We are all unique, we are all special, and without every one of us the world would be a poorer place.

We know it can become more and more difficult to carry on. Indeed, when your experience of life is so grim, it can reach a point where it no longer seems worth making the great effort required just to continue. The silent suffering can become itself too much.

Sometimes we need a helping hand, someone to guide us, someone to be there for us, someone who cares and understands our grief, someone who is good at listening and someone whom we can talk to and confide in. To be able to talk is so very important to us at this point in life, when we are in our darkest hour of need we need their help.

We chose not to repeat our suicide attempts. We got help when the suicidal thoughts intruded too much. We have sought strength and help in many ways and in many places.

Ask for help; seek out support; turn to those who care for you; try the helplines every time you feel so low you don't see the point in going on. Remember these words, and use them so it's clear to everyone how bad things really are "Can't cope… out of control… I feel suicidal". People care about you, people want to help, but you have to let them.

Of course, there is no guarantee of happiness, but it maybe that simply to feel "okay" for most of the time would be the most valuable and precious gift that you could receive?

Feeling good again is within your reach – if you are prepared to seek help. Please realise that you are entitled to help and support just as much as anybody else.

It's hard to think about tomorrow when you are where you are right now, but stop and think for a minute how someone cared enough to help us. Now, you need courage to let yourself be helped more. Whatever your route, whatever your problems, believe in yourself, believe in help from others and choose to give life another chance. Give yourself time to mend; you will not always be broken.

Choose to stay in this life like we have done. You can beat this, you are strong and you have so much more to give to this world. You are a survivor.

Darkness is lightness turned inside out and there is hope if we find someone to talk to and we seek help. Where there is help, there is hope and there is always someone there that cares.
Gloucestershire Suicide Prevention Partnership
The Gloucestershire Suicide Prevention Partnership (GSPP) exists to reduce the rate of suicide and self-harm within Gloucestershire. GSPP provides a forum that brings together different partners across the public, voluntary and community sector, those with lived experiences of suicidal ideation or bereavement by suicide, and anyone else with an interest in preventing suicide in Gloucestershire. Their website is a great place to find resources and tools and this month, they have developed a newsletter with a specific focus on the day.
Zero Suicide & Grassroots free online suicide prevention training
If you are interested in training on how to support someone with suicidal thoughts and behaviours, take a look at the Grassroots' Real Talk about suicide interactive film here which aims to help guide the viewer as they make choices to help provide support. Alternatively, take a look at the Zero Suicide Alliance Let's Talk training on how to support someone who is at risk.
After Shaun screening 
Carers UK are screening After Shaun: suicide awareness documentary at Gloucester Guildhall Cinema at 11am on Friday, 8 October 2021. After Shaun is a British documentary film delving into the heartbreaking repercussions of suicide on those left behind. Through a series of interviews with those grieving the loss of a loved one to suicide, supported by professional testimonials from Mental Health experts and campaigners, the film strives to show the devastating reality of suicide in the UK today.
Be Well Gloucestershire
Be Well Glos is a campaign aimed at raising awareness about mental health support available in the county; promoting health and wellbeing support and information to help when stress, anxiety, isolation and other challenges become hard to deal with.
In partnership with the county's NHS and care organisations, under the One Gloucestershire banner, we have been working alongside Gloucestershire County Council and Gloucestershire Clinical Commissioning Group to develop a website which brings information about the mental health support that is available into one place – highlighting and signposting people to local services, tips and advice, local charities and support groups as well as help lines and self-referral options. It is essentially a directory of commissioned services in the county as well as support and advice offered by charities and NHS campaigns and platforms.
It can be hard to know where to turn when we're struggling with our mental health but support is available, from NHS and council-commissioned services to local and national charities. Many services are free, confidential, and you can access them yourself without a referral from a professional. For more information, visit: www.bewellglos.org.uk
Samaritans support
The Samaritans' vision is that fewer people die by suicide. They monitor suicide statistics as part of their work to help reach those most at risk, and prevent suicide:  find out more about their research here or watch this Suicide in the community session recorded by the Gloucester branch of the Samaritans earlier this year.
If you are worried that someone you know is struggling to cope, the team has also developed this guidance on how to start a conversation and this includes information about the support their team can provide, and tips on how to use the Samaritan's 'SHUSH technique' to enable you to actively listen and how to avoid giving your view of what they should do.
The Samaritans are available on 116 123 or by email: jo@samaritans.org – alternatively take a look at their self-help app to find practical tips and techniques to look after your emotional health: Samaritans Self-Help
Other Support
If you are feeling suicidal and there is an immediate danger to life, please dial 999 or go to your nearest Emergency Department. Alternatively, look at our Help in a crisis guidance here>
If you are feeling vulnerable and need to talk to somebody now:
Text – Shout to 85258
Suicide Crisis – 07975 974455
Gloucestershire Crisis Resolution & Home Treatment Teams – 0800 1690398
Samaritans – 116 123
PAPYRUS HOPELineUK (for those under 35 years) 0800 068 41 41
CALM (Campaign Against Living Miserably) for men – 0800 585858
For support following crime or abuse:
Gloucestershire Action for Refugees and Asylum Seekers (GARAS) – 01452 550528
Gloucestershire Victim Support – 0808 281 0112
Gloucestershire Domestic Abuse Support Services (GDASS) – 0845 602 9035
Gloucestershire Rape and Sexual Assault Centre (GRASAC) – 01452 526770 Support Line – 01708 765200
Hope House Sexual Abuse Referral Centre (SARC)  0300 421 8400
For support for Drugs & Alcohol:
Change Grow Live (CGL) Drug & Alcohol Support Service – 01452 223014
Alcoholics Anonymous – 0800 9177 650
UK Rehab telephone support – 0203 811 5619
Nelson Trust – 01453 885633
For LGBTQI+ support:
Gay and Lesbian Switchboard – 01452 306800
The Gloucestershire Gay & Lesbian Community (GGLC) – 07050 627273
GayGlos – 07903 472899
Transgender – Gloscats – gloscats@gmail.com
For support on financial and money matters:
Citizens Advice, Adviceline – 0800 1448848
For homelessness support:
Gloucestershire Homeless Healthcare Team – 01452 521898
Shelter Emergency Helpline – 0808 800 4444
All the above organisations have websites – if you have
For support on self-harm:
Gloucestershire Self-Harm Helpline – 0808 801 0606, Text – 07537 410022, Webchat – www.gloucestershireselfharm.org
CASS Women's Self – Injury Helpline – 0808 800 8088
BEAT Eating Disorders Helpline – 0808 801 0677
For Mental Wellbeing support:
Let's Talk – Gloucestershire's Improving Access to Psychological Therapies Service (IAPT) – 0800 073 2200, www.talk2gether.nhs.uk
Qwell (18 years plus) – www.qwell.io
Kooth (11-18 yr-olds) – www.kooth.com
MIND – 0300 123 3393
Independence Trust – 01452 317460
CALMHS – Independence Trust – 0345 863 8323
SANEline – 0300 304 7000
TiC+ (for young people/parents/carers) – 01594 372777
Talk to your GP, or if in contact with mental health services talk to your care coordinator.
For support following bereavement:
Cruse Bereavement Care – 01242 252518
Winston's Wish – 01242 515157
SOBS (Survivors of Bereavement by Suicide) – National Helpline: 0300 111 5065
Sunflowers Suicide Support – 07542 527888 Email: info@sunflowerssuicidesupport.org.uk
For Inclusion support:
The Cavern (part of Kingfishers Treasure Seekers) – 01452 307201
Inclusion Gloucestershire and Mental Health Experience Led Opportunities (MHELO) – 01452 234003
For relationship advice:
RELATE Relationship Support – 0300 0030396
Other useful contacts
Combat Stress (for veterans) – 0800 138 1619
The Silver Line (for older people) – 0800 4 70 80 90
Stay Alive app – The Stay Alive app is the UK's first suicide prevention app. The app can be accessed through the Apple Store, Google Play and downloaded as a pdf. Visit www.prevent-suicide.org.uk