Useful information on making sure your child is ready for school.
'Every child grows and learns in different ways, you are your child's first teacher and at every step, you make a difference to their experience at school'
If your child is due to start school soon, you may have received this leaflet from Gloucestershire County Council. (PDF).
Starting school is an exciting time for parents/carers and children, and there are things you can do to help make sure your child gets the most out of the experience. The information on this page has been produced by your health visiting team to help you feel confident in supporting your preschool child to be ready for school.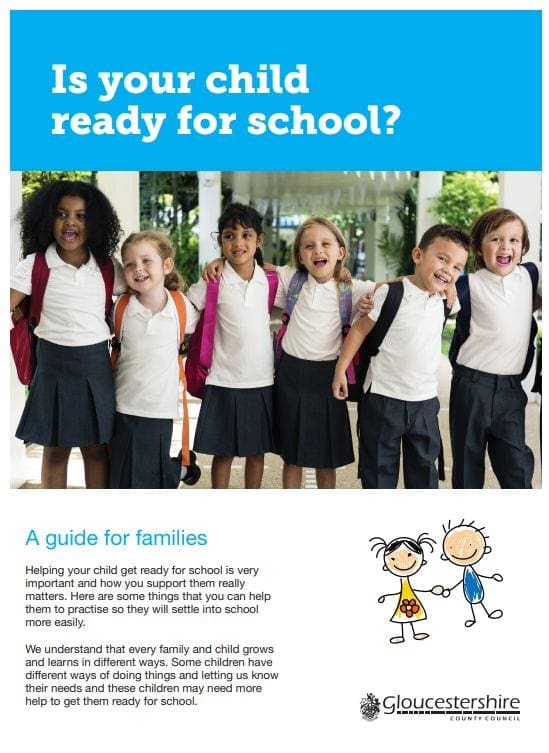 Is your child toilet trained? Can they go to the toilet, wipe themselves, pull their clothes up/down and wash their hands by themselves?
Can they put their shoes and coat on, and take them off unassisted?
Without being given help by pointing or repeating, can they listen and follow three instructions? For example:
Clap your hands
Walk to the door
Sit down
Can they tell you at least four of the following?
Their first name
Their last name
Their age
Whether they are a boy or a girl
The town or city where they live
Can they tell you the names of two or more friends, not including siblings?
After exciting activities can they calm themselves down and be ready for the next activity?
Can they stay with a play activity for at least 10 minutes?
Do they go to bed at a regular time and sleep for at least 10 hours?
If you have answered 'no' to any of these questions, contact your health visiting team for advice and support. 
Support with toilet training, information and resources are available from ERIC (The Children's Bowel and Bladder Charity) to help your child have a healthy bladder and bowel to achieve continence.
You can also contact your health visiting team for further support, or drop in to your local baby hub. You can find all the details here.
If you have any concerns about your child's speech, drop in sessions are available across the country. Find out more on the children's speech and language therapy page.
Further information on support with children's speech and language development can be found here:
Hearing, Eyesight and Dental
Hearing
If you are concerned about your child's hearing, please contact your early years setting or health visitor for a referral.
Eyesight
Free eyesight examinations are available on the high street, or contact your health visitor.
Dental
All children should be registered with a dentist and having annual checkups. You can find a dentist here.
Mobility and Independence
If you are concerned about your child's mobility, please contact a physiotherapist or occupational therapist for advice:
Diet, weight and eating habits
Contact your health visiting team for advice. 
The following website provides useful information on diet/exercise and eating – www.nhs.uk/change4life/recipes