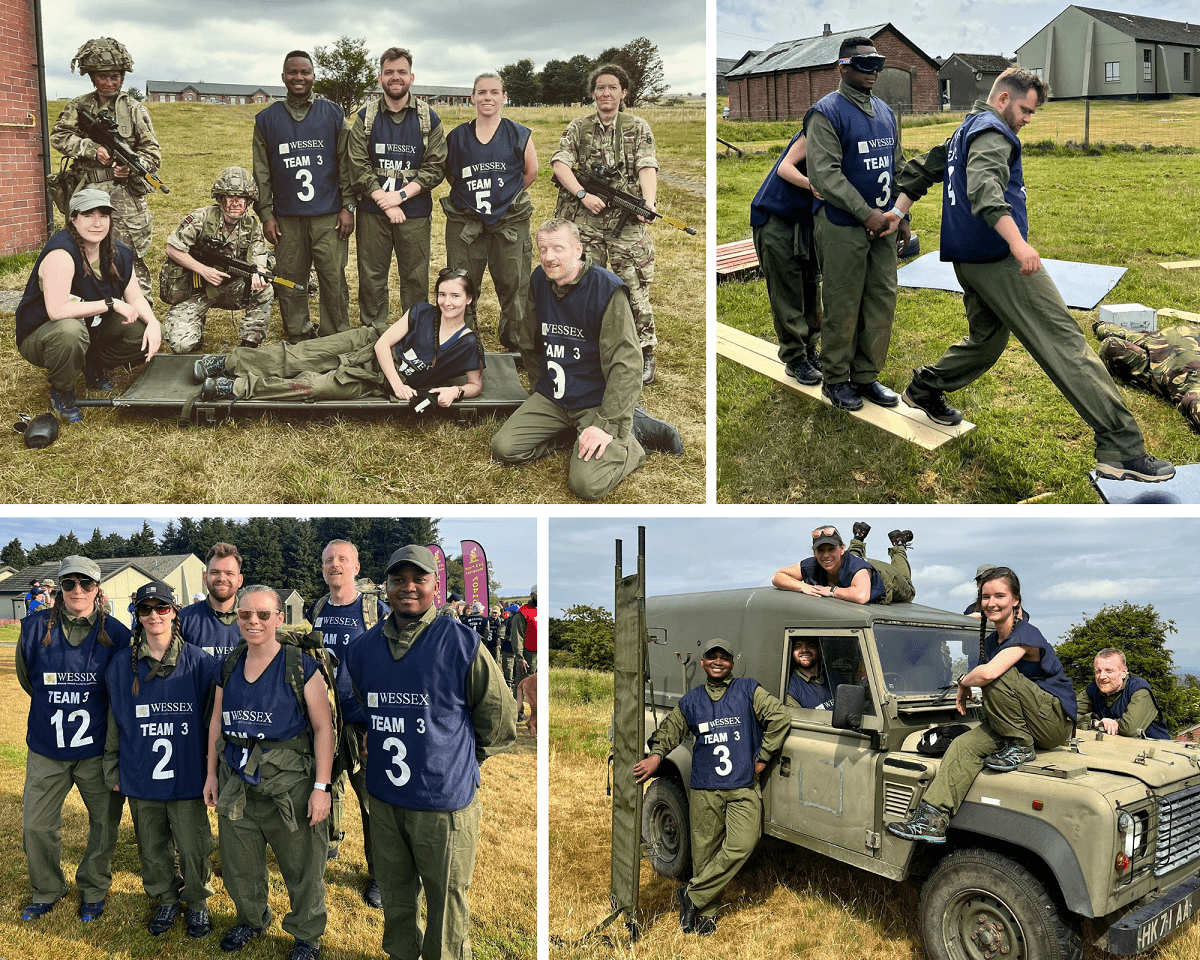 Exercise Medical Endeavour (formerly the South West NHS Military Challenge) took place at Okehampton Army Training Camp at the weekend (16-18 June). The event aims to provide NHS staff with an insight into the military healthcare teams, to encourage better working relationships and perhaps recruit NHS staff to sign up as reservists.
NHS Trusts from across the Southwest were invited to enter teams of eight who, acting as Trust ambassadors, competed in two days of events, testing both physical and mental agility.
Gloucestershire Health and Care joined forces with members of Great Western Hospitals NHS Trust to field a team, led by GHC's Patient Safety Lead Rebecca Walder.
Rebecca said: "We were a mix of clinical and non-clinical staff and were joined by eight other Southwest teams for a weekend of fun. The teams competed against each other in a number of tasks that tested our teamwork – both physically and mentally.
"Each task was awarded points for its completion, and how we worked as a team added to our weekend team total. The tasks tested a range of different skills, but ultimately how we as a team overcame the situation that we were presented with."
Tasks included:
Survival and tracking: that involved erecting shelters on rough terrain and identification of animals from their tracks
Problem solving, planning and communication
Search and rescue of casualties in a battlefield scenario (complete with gunfire)
Obstacle course
Firing weapons on a digital range
Stretcher race – moving a stretcher and load from point to point in a timed race.
Rebecca continued: "The team came away from the weekend utterly exhausted, but with an overwhelming sense of achievement – and the realisation of what you can do when you are determined, and have people around to support and who believe in you.
"The title this year was won by the combined team of Somerset and SWAST, with our GHC/GWH team taking fourth position! I couldn't be prouder of the team and how well they worked together, despite most meeting for the first time this weekend.
"We now look to 2024 and the next Exercise Medical Endeavour, and encourage our Trust colleagues to put themselves forward and have a go. You never know, next year could see GHC in first place!"