The people who use our services, and their carers and families, are at the heart of our quality strategy.
Our vision is Working Together to Provide Outstanding Care. This means working with everyone – our colleagues, partner organisations, everyone who uses our services and carers – to enable people to live the best life they can.
Our Quality Strategy sets out how we will ensure we achieve our vision between 2021 and 2026. Read the full Quality strategy here.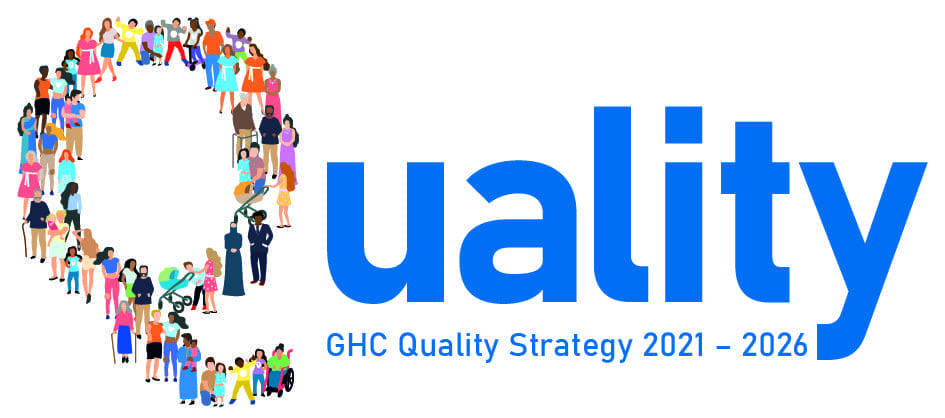 Our Quality Ambitions and Strategic Goals are:
Experience – Everyone has access to person-centred, responsive and respectful care
Treat people who use our services, their families and carers, and each other with dignity and respect
Work in partnership to consistently deliver safe and effective personalised care
Safe – Everyone can trust our care will cause no harm and can be accessed when needed
Develop and empower our workforce to deliver outstanding care
Develop a just culture which promotes safety through supporting people to speak up
Effective – Everyone receives care that is beneficial, based on evidence and efficiently delivered
Become a true learning organisation, with working together at our core
Be an active partner in the One Gloucestershire Integrated Care System, ensuring that new models of care reflect local needs
Safety
We constantly review the feedback we receive from people who use our services and carers to ensure we continuously improve what we do. If you would like to share information on our services, please email experience@ghc.nhs.uk
Overall quality
Information on the overall quality of our services is provided below:
Learning from reviews
Service User Experience
You can view our latest CQC patient survey results here.
We are compliant with the National requirements for Mixed Sex Accommodation. Patient-Led Assessments of care Environment (PLACE) take place every year and are now led by local Healthwatch teams.
CQUINs
The national contractual use of CQUINs is to support the essential focus upon quality improvement in the provision of services and incentivise through specific quality payments.
A proportion of Gloucestershire Health and Care NHS Foundation Trust's income each year is conditional on achieving quality improvement and innovation goals agreed between Gloucestershire Health and Care NHS Foundation Trust and Gloucestershire Clinical Commissioning Group, Herefordshire Clinical Commissioning Group and NHS South West Specialised Commissioning Group (for the provision of low secure mental health NHS services) and any person or body they entered into a contract, agreement or arrangement with for the provision of relevant health services, through the Commissioning for Quality and Innovation payment framework.
Information about our ward staffing and reports on month safe staffing levels can be found on our Safe Staffing page.
Our CQC rating
The Care Quality Commission (CQC) are the independent regulator of health and social care in England.
Their purpose is to make sure health and social care services provide people with safe, effective, compassionate, high-quality care and encourage care services to improve.
The work of the CQC includes:
Registering care providers
Monitoring, inspecting and rating services
Taking actions to protect people who use services
Speaking with an independent voice, publishing their views on major quality issues in health and social care
Throughout their work they:
Protect the rights of vulnerable people, including those restricted under the Mental Health Act
Listen to and act on your experiences
Involve the public and people who receive care
Work with other organisations and public groups
View the rating for Gloucestershire Health and Care NHS Foundation Trust*.
Click here for Easy Read information about the CQC
*Gloucestershire Health and Care NHS Foundation Trust was formed in October 2019, following the merger of 2gether NHS Foundation Trust and Gloucestershire Care Services NHS Trust. The CQC rating displayed is for 2gether NHS Foundation Trust. The new trust will be inspected and given its own rating in due course.