Gloucestershire Cardiac Rehabilitation Service
Cardiac Rehabilitation is a supervised programme that includes exercise, education and support following a cardiac event. It assists people in their recovery and to live as full a life as possible. It has been shown to:
reduce the risk of further cardiac events
improve quality of life
be a vital part of a person's long-term recovery
Cardiac Rehabilitation is recommended for all patients following a cardiac event and is endorsed by your Cardiologist, GP and is recommended in the NICE guidance (National Institute for Clinical Excellence).
Our Cardiac Rehabilitation Service has a national reputation for excellence. We work in partnership with a range of other organisations, including the University of Gloucestershire, national research and charitable organisations such as the British Heart Foundation. Our service consists of Specialist Nurses, a Physiotherapist, Cardiac Rehabilitation Exercise Instructors and Administrators. We have input from a Dietician and Improving Access to Psychological Therapies (IAPT) programmes and strong links to the cardiology teams in the hospitals. We accept referrals for people who have had a heart attack (myocardial infarction), percutaneous coronary intervention (PCI) (angioplasty or stent) or coronary artery bypass graft surgery (CABG). We support people to identify their risk factors and make lifestyle changes to reduce their risk of future cardiac events and improve their heart and overall health.
Initial assessment and clinics
Whilst an inpatient in Gloucestershire Hospitals patients should receive a Cardiac Rehabilitation red book as part of their phase 1 of Cardiac Rehabilitation. If patients have an event out of area a Cardiac Rehabilitation red book will be supplied by the Cardiac Rehabilitation Team. A link to the red book can be found in the useful links section at the end of this webpage. We offer an initial appointment (Phase 2) following discharge from hospital to review recovery, symptoms, medications and identify any immediate questions or concerns you may have about coronary artery disease and your recovery. This appointment may be face to face in a clinic, virtual (Attend Anywhere) or on the telephone – this will depend on the type of cardiac event you have had and the current restrictions due to Covid-19. Clinics are held in Gloucester, Cheltenham, Tewkesbury, Stroud, Dursley, the Forest of Dean and Cirencester.
Cardiac Rehabilitation Programme - Phase 3
We then offer a menu-based cardiac rehabilitation programme known as Phase 3:
Group Programme
An 8-week programme of structured exercise and education sessions which are centred on evidence-based coronary artery disease management.
Topics include risk factor management, healthy eating, stress management and will support your physical and psychological recovery following your cardiac event. The exercise consists of a 15-minute warm-up, a 20-minute circuit and a 10-minute cool down. The exercises are set to the individual's needs and can progress from seated, to lower intensity, to higher intensity, and may include weights to further increase the intensity.
Programmes are held around the county in community settings with easy access and parking. We also have one gym-based programme.
Following Covid-19 we have restarted most of our face-to-face programmes, and are in the process of restarting those locations still remaining.
Digital Online Programme (Elearn)
Alternatively you may prefer our 8-week online programme which includes once-weekly virtual exercise sessions. You will have access to information about coronary artery disease and its risk factors, to access at your own pace for the duration of the programme. Your Cardiac Rehabilitation Specialist will be able to provide remote support and answer any questions you may have. The digital platform also provides some useful links to websites, services and resources to help you manage your condition.
Self-Management Home Programme
For those who are unable to/prefer not to attend a group or digital programme, we offer a supported home-based programme with telephone contact.
Recovery Programme (Education Only Programme)
For people who want education only. This is available online or in a group face to face (currently suspended). Following completion of an exercise-based programme we will offer you a referral to phase 4 Cardiac Rehabilitation, which is ongoing exercise in the community. This is with instructors who have received training in supporting exercise for people who have had a cardiac event.
Cardiac Rehabilitation Programme - Phase 4
Phase 4 Cardiac Rehabilitation
Following completion of an exercise-based programme, we will offer you a referral to Phase 4 Cardiac Rehabilitation, which is ongoing exercise in the community. This is with instructors who have received training in supporting exercise for people who have had a cardiac event. Your GP can refer you to Phase 4 also.
British Association of Cardiac Rehabilitation Phase 4 Exercise Sessions
–
click here
for dates and venues.
Feedback from service users
Very professional and friendly. Gave me more confidence in my body so that I'm able to do more. I have a greater understanding of the effects of exercise on my heart and body. Thank you.
Very welcoming, answered all questions, good for meeting people who have been through what you have, makes you happy.
After having a heart attack, I felt anxious and insecure and thought that there was no way forward and recovery was not an option. I thank the Cardiac team for showing me a future, teaching me to trust my body and that there is a life ahead. Once again, thank you to all the team.
Professional, thorough, informative, caring, useful, interesting, well run, fun.
It's been brilliant! The physical exercises are well structured to improve my everyday movement whilst increasing my confidence in dealing with my condition. The talks on cardiac events involved information which I thought would only be of passing interest. I soon realised how useful such knowledge was and how important it would be to my future wellbeing. This is a great service. Thank you.
I am extremely grateful and would like to say thank you to everyone involved in producing the E-Learn course. I have learnt a lot about coronary heart disease and it has helped my rehabilitation.
I was delighted and privileged to attend the course and the information on the site is excellent and really well thought out. A superb example of the NHS at work and the staff employed on the course are friendly, highly qualified and supremely professional. It has been just brilliant after the shock of having to undergo heart surgery.
It's been a most excellent remote learning experience, so thanks to all of you who made it happen at this especially difficult time (re: COVID-19).
Really is a great tool to have in the form of online. All participants seemed able to use the software after a short period of time and the classes were really good, you felt so looked after. The team were on hand and happy to speak with you at any time.
How to refer to the Cardiac Rehabilitation Service
We accept referrals for Phase 2 and Phase 3 cardiac rehabilitation from the wards in Gloucestershire Hospitals NHS Foundation Trust (Gloucestershire Royal and Cheltenham General hospitals), GPs (GP will need information about your cardiac event for referral), tertiary centres and self-referrals, through the contact details above.
Your views and suggestions are important. They help us to improve the services we provide. We would like you to tell us about your experiences so that we continue to make life better for people who use our services and their families/carers.
Whether you have a compliment, comment, concern or complaint, we are here to help you. Everyone likes to receive praise and we hope you will tell us when you receive a good service from us. We always make sure these comments are passed on to the members of staff who are praised and to the Trust Board.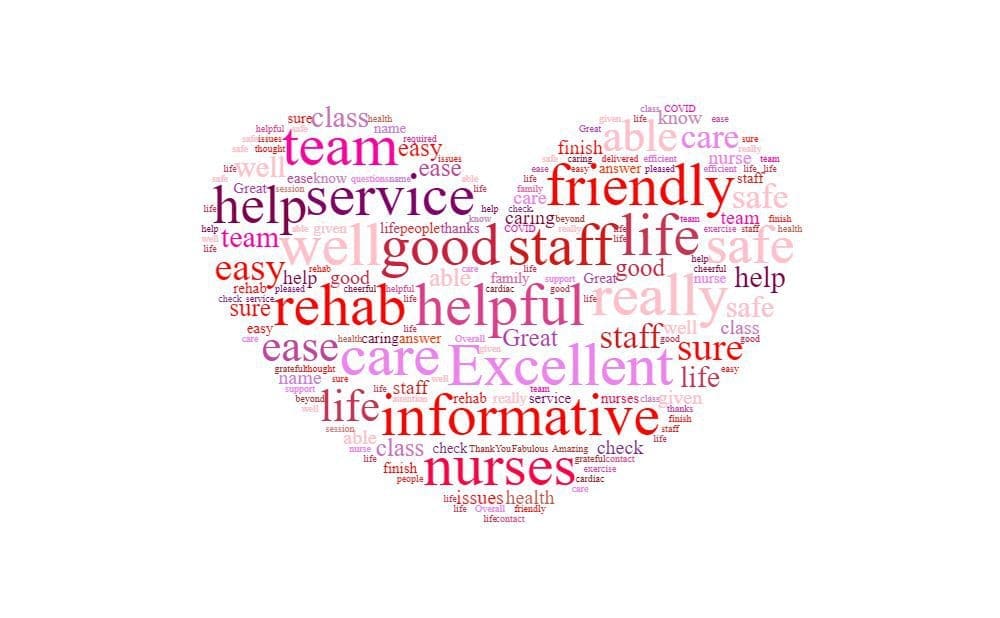 "The work of your team in rebuilding my confidence has genuinely been life changing."
Here's what one lady who attended one of our Cardiac Rehabilitation Courses had to say…
"In February/March 2019, I had the pleasure (?) of attending a Cardiac Rehabilitation Course in the Forest of Dean, following a heart attack and having had a stent fitted during the previous December.
"One of my lasting memories was one of the staff members telling me how nice it was to meet me but, with the greatest of respect, she never wanted to see me again – all taken with the good humour that was intended.
"Whilst I'm sure you never wish to see us again in a professional capacity, I've been thinking recently that it would probably be nice to hear about success stories too – maybe to encourage you all a little. So here goes…
Continue reading
Having been taken ill very unexpectedly at a relatively young age (47), I was very nervous about re-engaging in physical activity (I previously rode mountain bikes for exercise).  The course and encouragement of your staff enabled me to overcome that fear, to recognise my limits and to be sensible in gradually increasing my fitness.
On leaving the course I was still a little unsure about what I could do.  I started walking further and further and finally joined a 0-5k running group.  It was an opportunity to do some gentle exercise in a group whilst being supervised.  Although it seemed like a long 9 weeks, I was very proud to achieve my first ever 5km run.  I enjoyed it so much that I repeated the course with the main aim of improving my speed and stamina.  One thing led to another and I moved on to join a 5-10k group.  Having completed my very first 10k around the time of my final cardiac consultation, I discussed plans with my GP to take on a half marathon.  Over the next 4 months, under his watchful eye and with the help of Forest of Dean Athletics Club, I trained for and took part in the Newport Half Marathon in March 2020 – 12 months after completing my Cardiac Rehabilitation Course.
Lockdown has been difficult for most but I have continued running and have since completed another 2 half marathons.  I can honestly say that at 49, I have never been as fit and well as I am now.
Finding myself in such difficulty at a relatively young age really was a massive shock for me and my family.  The work of your team in rebuilding my confidence has genuinely been life changing and my family and I will always be grateful for the time I was able to spend with you.
What you do is an essential service.  Thank you once again.
Useful links and information
Video: Exercise for Cardiac Rehabilitation
Seated Exercises Introduction
Warm Up and Seated Exercises: Part 1
Standing Exercises Warm Up
Standing Exercises: Levels 1 & 2
Standing Exercises: Level 3