Young Minds Matter (YMM)
Gloucestershire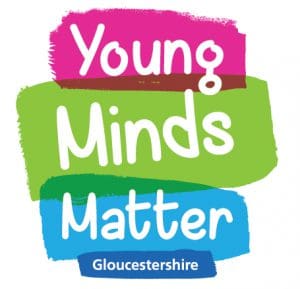 Young Minds Matter (YMM)  is a safe and confidential mental health support service developed for children and young people up to 18 years of age in schools across Gloucestershire. ​
The team can offer you support if you are struggling with things like anxiety, low mood and poor sleep or similar. This can be either face to face in school or via a virtual online platform. To meet with someone from Young Minds Matter you can ask a teacher/member of staff in the school to make a referral for you. Alternatively, if you attend a secondary school and would prefer not to talk to someone at school you can refer yourself into the team using YMMChat.
Who can access YMM?
YMM is currently a pilot scheme and can only accept referrals for pupils from participating schools. Our list of trailblazer schools is below. If your school is not on this list, please contact TIC+ or seek support at onyourmindglos.nhs.uk
List of Trailblazer schools
Primary schools
Aylburton C of E Primary School
Beech Green Primary School
Berry Hill Primary School
Blakeney Primary School
Bromesberrow St Mary's C of E Primary School
Calton Primary School
Catholic School of St Gregory the Great
Coalway Junior School
Drybrook Primary School
Dunalley Primary School
Elmbridge Primary School
Forest View Primary School
Gardners Lane Primary School (Federation w/ Oakwood)
Glebe Infants (Newent Federation of Schools)
Glenfall Community Primary School
Harewood Junior School
Hillview Primary School
Hope Brook C of E Primary School
Huntley C of E Primary School
Kingsholm C of E Primary School
Kingsway Primary
Lakeside Primary School
Longlevens Junior School
Lydbrook  Primary School
Lydney C of E Community School
Mitcheldean Endowed Primary School
Moat Primary Academy
Oakwood Primary (Federation wi/ Gardners Lane)
Parkend Primary School
Picklenash Junior School (Newent Federation of Schools)
Pillowell Primary School
Primrose Hill C of E Primary Academy School
Robinswood Primary Academy
Rowanfield Junior School
Ruardean C of E Primary School
Soudley Primary School
Springbank Primary Academy
St Briavels Parochial C of E Primary School (Wye Forest Federation)
St James C of E Junior School
St James' Primary School
St John's C of E Academy
St Paul's C of E Primary School
St Thomas More Catholic Primary School
St White's Primary School
Tredworth Junior School
Walmore Hill Primary School
Waterwells Primary Academy
Widden Primary School
Woodside Primary School
Woolaston Primary School
Yorkley Primary School
Secondary schools
All Saints Academy
Barnwood Park Arts College
Cheltenham Bournside School and Sixth Form Centre
Chosen Hill School
Cleeve Secondary School
Dene Magna School
Five Acres High School (formerly Lakers)
GLOSCOL – NEW Forest of Dean College
Gloucester Academy
Henley Bank High School
Holmleigh School (formerly Beaufort Co-operative Academy)
Newent Community School and Sixth Form Centre
Pittville Secondary School
Ribston Hall High School
Severn Vale School
Sir Thomas Rich's School
St Peter's Catholic School and sixth Form Centre
The Dean Academy
The Forest High School
Wyedean School and Sixth Form Centre
YMMChat and self-referral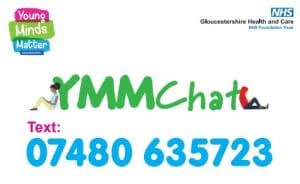 We have a friendly team of YMM professionals who are available to chat on text message during the school day (between 9am until 4:30pm) Monday to Friday (except bank holidays). The team will aim to respond either the same day or the next working day.
Young people can contact us by text if they want to share something that is worrying them, to get some advice or to self-refer and get an appointment, without needing to ask a parent or a teacher if they would like to chat with one of the 1:1 practitioners to talk things through.
Young Minds Matter offer a safe, confidential space to work on the difficulties you are experiencing in a structured and focused way, we use something called Low Intensity Cognitive Behavioural Therapy, which helps us to think about how your thoughts (cognitions) impact on your actions (behaviours) and your feelings (emotions). You can speak to someone at school and ask to be referred or us our text service YMM Chat, to confidentially talk to one of our team and the options that are available for you.  
"You can text whenever you need to… everybody feels worried and everybody gets stressed and this will take the pressure off."
Have you used our service? If you would like to share your experience or to help us to improve the mental health support we provide to children and young people in the county, then leave feedback here>
Meet the YMM support team
Mercy Badaei – Educational Mental Health Practitioner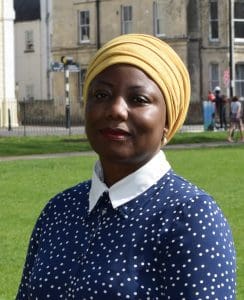 I work for Young Minds Matter as an Educational Mental Health Practitioner (EMHP). My job is to work alongside children and young people who need some support with their mental health and wellbeing, who might be presenting with worries or feeling low in mood. I love working as an EMHP as I get to hear children and young people's stories, be a source of support and help development of strategies to promote emotional health and resilience.
Beth Graham - Education Mental Health Practitioner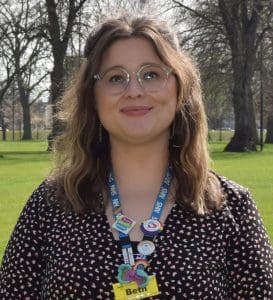 Hi I'm Beth and I am an Education Mental Health Practitioner. We work with children and young people to help them consider their thoughts and behaviours and how this might impact how they feel. It's really tricky to change our emotions, so we work together to come up with strategies to change our thoughts or behaviours to help improve our wellbeing.
There are so many things I love about my job, but for me the main one is getting to meet some wonderful young people and normalising that we all struggle sometimes and that is it okay to reach out for support; hopefully empowering them to feel confident in using strategies to work towards more positive mental health."
Amy Brooks - Trainee Education Mental Health Practitioner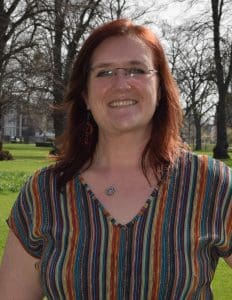 "The need for support in schools has never been so important as it is now. My role allows me to support young people through the use of different therapies within a school setting, empowering children and young people to cope with whatever life throws at them! It is extremely rewarding, varied and fun!"
Jess Matthews - SMHP Jess Matthews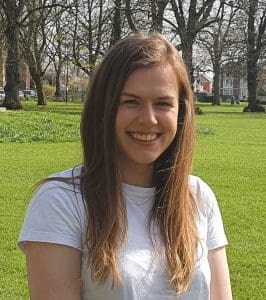 "Building working relationships with schools to offer support around emotional wellbeing. Hearing all the positive feedback on intervention success from schools during consultation knowing the work from YMM makes such a difference to the young people we work with, especially the LI CBT 1:1 work by EMHP. It really feels that we work as a team to offer the best support for YP"
Emily Lewis - SMHP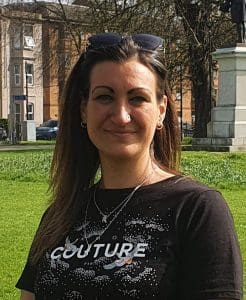 "I'm very happy to be part of the Young Minds Matter service. I love being part of a team who are so enthusiastic and dedicated to the young people and families we work with. A big part of my job is ensuring the service has close working relationships with the schools; this I really enjoy because we can support them in reaching out to every child who deserves a service".
Stephanie Watts - Lead SMHP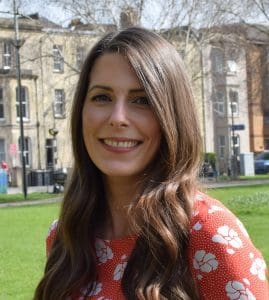 "I feel very proud to be part of Young Minds Matter, supporting children and young people across schools in Gloucestershire. What makes our service unique is that we see children and young people in schools, which means they don't have to travel to see us and are somewhere they feel comfortable. Our YMM Chat service means that if a young person doesn't wish to speak to someone at school, they can contact one of the team confidentially to discuss anything that may be on their mind and to seek support. My role is to supervise and support the team and ensure we are offering an evidence based, safe service – helping children and young people to access support for their mental health early and equipping them with the skills and tools to support their mental health now, and in the future".
Emma Wright - Gloucester MHP Team Manager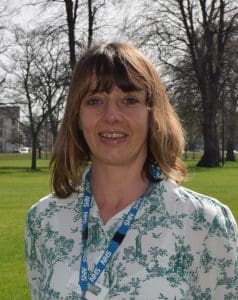 "I enjoy my role as a Team Manager for YMM as I find helping to lead and support the team particularly rewarding in order to help them deliver the best level of mental health support and intervention to children, young people and their families. The team here are very hard working and child-centred and the feedback we receive makes it all worthwhile! It is hugely exciting to be part of a new initiative in delivering mental health interventions to young people in their schools. Early intervention is crucial and I enjoy working alongside the educational professional network to deliver this".
Becky Flory – Clinical lead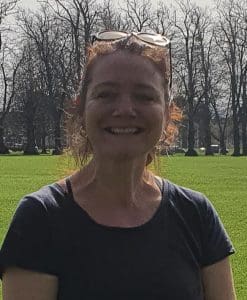 "My name is Becky and I am the Clinical lead for the YMM team. I am proud to be part of  a service that can work with young people in schools and is easily accessible when someone is struggling and needs some support. I love being able to listen to feedback from students and parents, and being able to then respond to those comments in order to improve our service. For a young person to be able to use a service like YMMChat and know they will have a supportive professional responding to the text and can book an appointment to talk things through is so important. Your mental health matters to us!"
Background to YMM, Gloucestershire
The service is growing and is currently working within 72 schools across the county.
The project started in December 2018 when Gloucestershire Clinical Commissioning Group worked with Gloucestershire Health and Care NHS Foundation Trust (formerly 2Gether) and Gloucestershire County Council to engage with young people across the county to set up the Young Minds Matter programme. The aim of the programme is to help provide young people with early support to help them with mild to moderate mental health issues such as exam stress, friendship or behavioural issues.
More information about the origins of the project is available here>