Apprenticeships and Widening Access
Gloucestershire Health and Care NHS Foundation Trust is committed to offering all clinical and non-clinical staff the opportunity to access high-quality apprenticeship training throughout their careers with the organisation.
We currently offer apprenticeships from Level 2 up to Level 7 and more than 20 different apprenticeship standards.
Telephone: 0300 421 8216
Email: apprenticeships@ghc.nhs.uk 
Twitter: GHC_Apprentices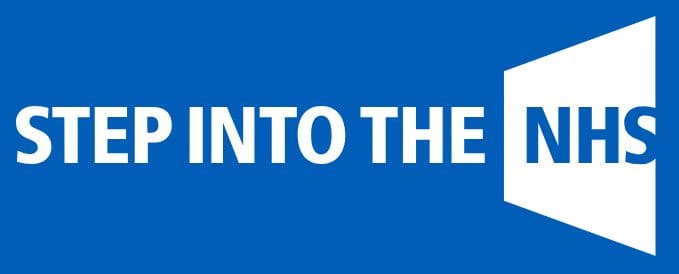 Apprenticeships and Widening Access
Apprenticeships within our Trust
An apprenticeship within our Trust can help to kickstart your career within healthcare, as well as provide you with a nationally-recognised qualification and quality workplace experience within a professional setting.
Our dedicated Apprenticeship and Widening Access Team provides support, advice and guidance to more than 160 apprentices and to anyone looking to join the Trust via an apprenticeship programme.
Widening Access
Widening Access includes activities related to the encouragement and increase of young people entering higher education.  Widening Access also targets schools or colleges where attainment is typically below average. These activities include, but are not limited to:
work experience
work Shadowing
interactive workshops
school engagement including careers talk
traineeships
apprenticeships
What we offer
Gloucestershire Health and Care NHSFT currently supports the delivery of more than 20 different apprenticeship standards for both clinical and non-clinical careers. Our apprenticeship vacancy opportunities include:
Business Administration
Customer Service
IT
Finance
Health Care Assistant
All of your training is delivered either in the workplace or through college/university attendance.
As an apprentice with our Trust you will be fully supported by your line manager, a workplace mentor, training provider and a team member from the Apprenticeship and Widening Access Team. You will be an integral part of a team or service and will be expected to provide good customer service to service users, carers, families and colleagues by adopting a professional and effective approach to the activities and outcomes required of your post.
Apprenticeship standards supported by the Trust include:
Accounting/Taxation Professional
Accounts and Finance Assistant
Adult Care
Advanced Clinical Practitioner
Assistant Accountant
Assistant Practitioner
Associate Project Manager
Business Administrator
Clinical Associate Psychologist
Data Analyst
Dental Nurse
Healthcare Support Worker
IT Solutions Technician
Senior Healthcare Support Worker (Adult Nursing, Mental Health and Therapy Support)
Operations/Departmental Manger
Podiatrist
Professional Accounting Technician
Project Manager Degree
Team Leader/Supervisor
Why choose an apprenticeship?
Earn while you learn
Apprenticeships give you the opportunity to gain hands-on experience, develop key skills by working alongside experienced colleagues and gain accredited qualifications, all while earning an income. As an apprentice you will also receive the same benefits as your colleagues, such as holiday pay, sick pay and pension scheme.
A genuine alternative to university
You may not have had the opportunity to gain professional qualifications in the past, or university may not have been an option for you. Why not look at an apprenticeship, supported by Gloucestershire Health and Care, for the opportunity to work towards and achieve post-graduate accreditation? With a range of levels and different apprenticeships available, there really is something for everyone.
Gain occupational-specific qualifications
Apprenticeships are tailored so that you develop the key knowledge, skills and behaviours needed for your specific occupation/profession. They allow you to achieve an occupational-specific qualification, which is not just recognised within Gloucestershire Health and Care, but externally too.
Tailored support throughout
As an apprentice, you will have the support of a mentor and a dedicated tutor. They will be there to give you the support you need throughout your apprenticeship journey, helping you overcome any obstacles faced and ensuring that you successfully complete your apprenticeship.
Find an apprenticeship
Our apprenticeships start at different times throughout the year. They are advertised like any other job and you will need to complete the standard recruitment process, e.g. application, shortlisting, interview and offer.
You can find NHS apprenticeship vacancies on the NHS Jobs website and on the National Apprenticeship Website
We also advertise our apprenticeships on our social media pages. Follow us on Twitter at GHC_Apprentices for all the latest news, updates and apprenticeship vacancies.
The apprenticeship team can also offer information, advice and guidance to apprenticeships and future career choices. If you would like to speak to a member of our team, email us at apprenticeships@ghc.nhs.uk or call us on 0300 421 8216.
Information for schools
The Apprenticeship and Widening Access Team welcome the opportunity to work with schools and colleges across the county, promoting the career paths that can be offered within the NHS.
The team has a pool of healthcare ambassadors on board to support schools and colleges with career-related activities such as career fairs, mock interview sessions, Ask the Professional days and many more. If you are a school or college representative and would like NHS presence at your career-related event, please get in touch and we will make our best efforts to accommodate.
Please find below a number of resources that can be used for your students to gain a better insight into more than 350 different careers within the NHS. Please contact the Apprenticeship and Widening Access Team for a copy of these resources at apprenticeships@ghc.nhs.uk
Resources available
Virtual Schools Resources Pack – produced by the GHC Apprenticeship and Widening Access Team to outline the different career pathways and areas of expertise within our Trust
Apprenticeship Pathways – examples of career progression pathways available through the completion of an apprenticeship
Job Shop Presentation – hints, tips and helpful information for anyone looking to apply for an apprenticeship.
Links:
Covid 19 and work experience placements
As an employer that provides frontline health and care services, Gloucestershire Health and Care NHS Foundation Trust has a duty to protect its staff, patients, visitors and their families. We have therefore taken the decision to suspend all work experience opportunities while in the midst of the Covid-19 pandemic, and will review this decision in line with government guidance.
At Gloucestershire Health and Care NHS Foundation Trust we aim to provide a wide range of learning experiences, particularly for those individuals who are interested in gaining a better understanding of the NHS and wish to pursue a career within the NHS.  There are more than 350 different careers in the NHS, not just doctors and nurses, and we are keen to assist individuals in providing invaluable experiences to help their decision making.
In the absence of work experience placements we are able to offer one-to-one meetings with a healthcare professional, advice and guidance on career pathways, mock interviews and support with apprenticeship applications. Please contact the team for more information at workexperience@ghc.nhs.uk
Work experience application form
To apply for a work experience placement with Gloucestershire Health and Care NHS Foundation Trust, please complete this form. 
Stacey Robinson
Job role: Apprenticeship and Widening Access Lead
Stacey joined the Apprenticeship and Widening Access Team in December 2018, bringing with her a wealth of knowledge around apprenticeship and vocational education.
As the Apprenticeship and Widening Access Lead, Stacey is focused on integrating apprenticeships of all levels and career routes into the Trust workforce, and ensuring that our all apprenticeship delivery is of high quality and meets the requirements of our services.
Stacey is also the One Gloucestershire Apprenticeship Hub Manager and works with other Integrated Care System leads to encourage and develop a collaborative approach to apprenticeship training and opportunities across the county.
With a background in apprenticeships and education, Stacey is passionate about raising the profile of apprenticeships and the benefits they provide to both employers and learners.
Feel free to contact Stacey to discuss apprenticeship and widening access provision within Gloucestershire Health and Care on 0300 421 8216 or 07916 211860 or email stacey.robinson@ghc.nhs.uk
Rachael Bish
Job role: Apprenticeship and Widening Access Facilitator
Rachael is an Apprenticeship and Widening Access Facilitator in the Learning and Development team based at the NHS Training Hub at Invista in Brockworth, Gloucester.
Rachael brings a real passion for apprenticeship training to the department and is keen to promote the opportunities to upskill and progress your career at any age through apprenticeship training. 
With a background in education and having previously worked with various employers across Gloucestershire to implement apprenticeship programmes in the workplace, Rachael understands the many different sectors and opportunities of apprenticeship training and is particularly keen to unpick and dispel the myths around apprenticeships.
Rachael supports the Leadership and Management apprenticeship programme at GHC and is excited to be introducing apprenticeship training pathways in the mental health, learning disability and AHP areas of the Trust, to help upskill our valued staff.
Rachael enjoys nothing more than exploring training opportunities with individuals and is always keen to have a chat with anyone considering undertaking any form of apprenticeship training. Please contact Rachael on 07919 001453, or Rachael.Bish@ghc.nhs.uk to discuss your options.
Latest news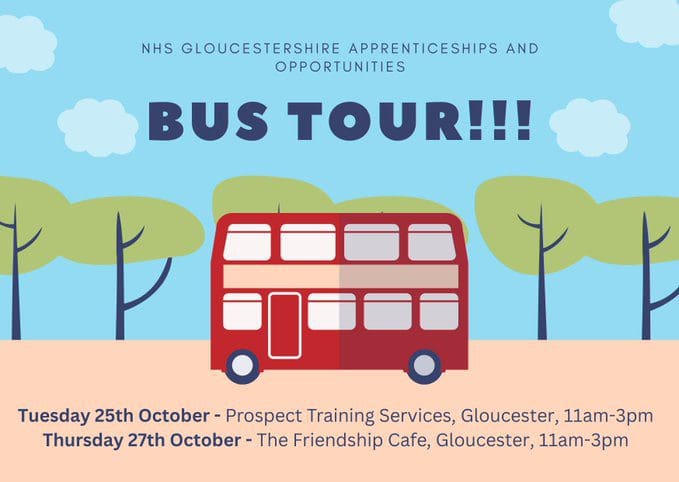 Our School Careers and Engagement Officer Christy will be hitting the road later this month, with colleagues at Gloucestershire Hospitals NHS Foundation Trust.
The information bus will be visiting Prospect Training Services at Mill Place, Gloucester (GL1 5SQ) on Tuesday 25 October, between 11am and 3pm.
On Thursday 27 October they will be stopping at The Friendship Cafe at Chequers Bridge Centre, Gloucester (GL4 6PR), between 11am and 3pm.
For further details contact Christy at Christy.Costello@ghc.nhs.uk, telephone 0300 421 8216, mobile 07977 071270.