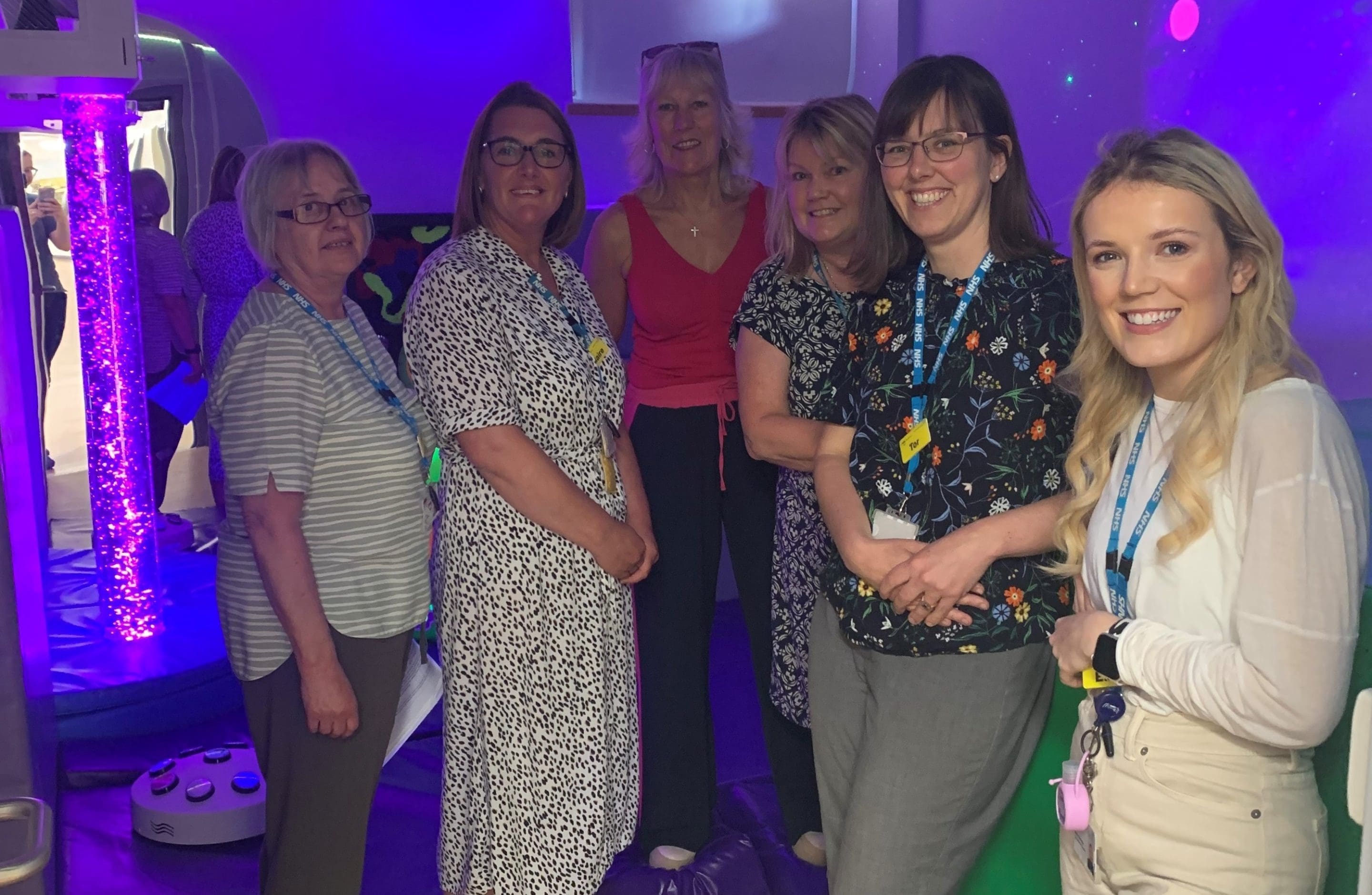 A new sensory room has been opened at Evergreen House in Cheltenham, thanks to the generosity of a local children's charity.
Home to Gloucestershire Health and Care NHSFT's Children and Young People's Services (CYPS), Evergreen House provides a range of specialist emotional wellbeing, mental health and learning disability services for children and young people aged under 18 living in Gloucestershire.
Julie Kent MBE, Vice Chairman at the Pied Piper Appeal (pictured third left), recently visited the site to officially open the new sensory room, made possible by a generous donation of £10,000 by the charity.
The room offers a calming, distracting and peaceful space for children and young people with sensory processing difficulties.
Operational Manager Sally Powell (CAMHS/LD) said: "This fabulous new sensory room provides a welcome distraction for children and young people visiting Evergreen House for assessment and treatment with our CAMHS (Children and Adolescent Mental Health) and learning disability services.
"It's a wonderful environment that gives them more control over sensory changes and encourages personalised sensory input to help them be calm and focus on themselves.
"It hasn't been open very long, but already we're seeing the benefits this new space brings. For instance, a six-year-old with autism and learning needs was recently brought along to a parent-only appointment in error.
"It was a long and involved appointment, and potentially problematic for the parent and clinician to keep the child occupied and happy while they discussed his needs fully. However, he was delighted when he spotted the sensory room.
"It really helped us to keep him calm throughout the entire appointment. Ordinarily, he would only manage about five minutes in a typical clinic room with toys.
"The sensory room means we have also been able to help the child's family understand him more and move forwards with accepting his needs.
"I would like to say a huge 'thank you' to Julie and the Pied Piper Appeal for this amazingly generous donation, and for making this fabulous new sensory room a reality.
"It is making a huge difference for the children and young people who access our services, their families and carers, and we cannot say 'thank you' enough."
Julie Kent MBE, Vice Chairman at Pied Piper Appeal, said: "We are so pleased to see the sensory room up and running. We realise how important it is for children with specific difficulties with their learning and emotional wellbeing to be in a comfortable space to talk with professionals who can help them.
"Pied Piper is invested in the support of children's mental health across the county with sensory rooms, journey boxes and high-dependency rooms at the hospital."