Help and advice for relatives and friends who support people using our services
A carer is a person who provides unpaid help and support on a regular basis to a partner, child, relative, friend or neighbour, who is frail or has a physical or mental illness, disability or substance misuse issues. The carer is not employed to provide this help but does so to improve the quality of that person's life.
In GHC we use the term 'carer' to distinguish those who are carrying out the role described here. We understand that many parents, relatives and friends who support patients and service users as part of your relationship may not identify yourselves using this term – but we hope that the information is of use however you see your role.
How we support and work with carers
As the carer of someone receiving our services, you should be given the opportunity to talk to us about:
• the person you care for – please feel confident to tell us information you think it is important we should know
• your own needs in your caring role Carer support within GHC should routinely be offered to you.
What is on offer will depend on which service your friend or family member is using, but common examples of this support are:
• information on health conditions and disabilities and what to expect in future
• inclusion in discussions and meetings about treatment options, condition management and discharge planning
• advice about how you can best support the friend or relative who is using our service.
Our teams support people experiencing different types of health problems and who have varying levels of need. The different services we offer also work in different ways.
Carer Information and Support Groups
Carer education and support groups provide:
• Time to talk, share experiences and support each other
• Visiting speakers on health issues and services
• Increased understanding of health problems and how they may be managed
• Education for carers on looking after their own wellbeing
• Information on carers' rights
These may be provided by the team, depending on which service your friend or family member has contact with – ask the care co-ordinator if this is part of what the team offers. You can also access carer education and support programmes run by local carer organisations.
When someone you care for has health problems, it can be worrying and stressful.  If you would like someone to talk to, there are a number of people who may be able to help.
You can speak to the Named Nurse or Community Key Worker.  The Team Manager or other members of staff in the team can also help.  You can also speak to Gloucestershire Carers Hub or Gloucestershire Young Carers.
Advance Planning
Planning is key to coping with a crisis, so it's important to think in advance about an action plan. You and the person you care for might like to make a plan about what they want to happen if there is an emergency.
Often, as part of their care, teams will help your friend or relative to plan what will happen if they become unwell again. If carers are part of that plan, they should be involved and have a copy of it so they know what's expected and who to contact.
Your friend or relative can also make a plan for themselves about what they want to happen in future, if they want and are able to. They may like to involve you in this.
The plan can be in any format. There are some Advance Care Planning tools available from staff, but it does not need to be on a special form. The important thing is that staff know about it. Service users, friends and family can talk through and record preferences about treatment, and other future support that might be necessary, and these can be stored in the clinical records so staff are aware of them if a situation arises.
Carers often recognise early signs that someone's health is deteriorating. You should not worry that you will be seen as "making a fuss" – you are the person who may be most aware of a developing problem and staff should respect your opinion.
If you are requesting help, the following list can help you prepare what to say:
• Situation: Who is calling and why? Be clear about the situation.
• Background: How has this come about and what has happened?
• Assessment: What are the problems that you are worried about?
• Recommendations: What do you feel would help?
• Decision: Make a note of what was agreed and who will do what
Support for carers
It's not unusual for carers to feel that things are getting on top of them and you may feel anxious or depressed.  Getting the right help is essential to prevent this escalating and there are several avenues open to you.  
Your GP is a good first point of contact as they will be able to assess your health and access a range of treatment.  If they hold a Carers' register as many surgeries do it might also help to register yourself as a carer so they are aware of your situation.
Once you are registered as a carer many GP practices offer some or all of the following:
• Free annual flu vaccinations
• Joint appointments for patients and carers
• Back-to-back appointments for patients and their carer
• Home appointments for carers who are housebound
• Health check for carers, sometimes also linked to an advice clinic
• Sharing of relevant information with a carer regarding the illness, treatment and prognosis of the cared-for with appropriate agreement
• One or more 'emergency' appointment slots 'free' each day for carers
• A nominated staff member who telephones older or vulnerable patients who are carers on a regular basis
• A nominated staff member as a carer lead
• A dedicated carer's noticeboard and carer's link on their website for information
• Link entries on their register to a referral for a carers' Assessment and/or referral to relevant organisation or agency for advice and support
• To link registration to an invitation to a local carers' support group
Let's Talk
At Gloucestershire Health and Care you can access help through Lets Talk, our Improving Access to Psychological Therapies (IAPT) Service which offers a range of  support including telephone, face to face and group sessions. Your GP can help you access the service or you can visit the Let's Talk website to see the support available to you and self refer.
Other organisations offering support
Carers organisations also offer a range of emotional support and counselling services to carers – you can find their contact details by clicking here.
Carers Emergency Scheme – Gloucestershire
A service to support carers by providing free replacement care when the carer suddenly or unexpectedly becomes ill, or has an accident which prevents him/her from providing care. To register, contact:
Gloucestershire Carers Hub (provided by PeoplePlus) in Gloucestershire. Telephone 0300 111 9000.
Advocacy
Advocacy services provide support to ensure disadvantaged people are treated fairly and have
equal rights.
In Gloucestershire, POhWER provides advocacy services, including:
• Independent Care Act Advocacy
• Independent Mental Capacity Advocacy
• Independent Mental Health Advocacy
• Independent Health Complaints Advocacy
• Independent advocacy to eligible individuals wishing to complain about their experience of adult social care.
POhWER can be contacted using the following details:
Telephone: 0300 456 2370
Email: pohwer@pohwer.net
You can also text the word 'pohwer' with your name
and number to: 81025
Confidentiality and information sharing
Staff have a legal duty to keep personal information confidential. For a variety of reasons, service users sometimes do not consent for staff to share information with carers, and if they are able to make that decision staff need to respect it.
However, it is good practice for staff to revisit this decision with service users, to ask them if it applies to all information or just some things, and to remind the service user of the positives of carer involvement.
If the person you care for has agreed that information can be shared with you, planned care or treatment should be discussed with you. If not, you can still receive general factual information both verbally and written, as well as support for yourself in your caring role.
As the carer you should be helped to understand:
• the present situation
• any confidentiality restrictions put in place by the service user
• the service user's treatment plan and its aims
• any written care plan, crisis plan or recovery programme
• the role of the professionals involved in the service user's care
• how to access help, including out of hours services
As the carer you should have:
• the opportunity to speak to a professional on your own and share information that you consider relevant and important
• rights to your own confidentiality when talking to a professional
• encouragement to feel a valued member of the care team
• confidence to voice your views and any concerns you may have
• support in your caring role
• access to an assessment of your own needs and your own written support plan
Communication and 'consent to share'
Effective, seamless care is based on all those involved with someone having access to the right information. The person receiving support, and/or others may be put at risk if this information is not provided. Where information is shared with others, they also have a duty of care to ensure that this information is protected.
We often need to 'share' information about service users with a range of people. These may include family, friends, neighbours, and staff in organisations such as social services, housing, schools or voluntary and community groups.
It is important that the person's views and wishes about what can be shared, and with whom, are recorded.
This is called 'Consent to Share Information' and there is a distinction to be made between general information about their wellbeing, information about the service, and sensitive, confidential information about their current mental health and progress.
The standard position regarding sharing information with families and carers is that
clinicians are expected to do this unless the person withholds their consent. This is because sharing information and communicating effectively:
• Helps families and carers to support the person better, and promotes their recovery and wellbeing
• Creates relationships and communication channels that can improve shared understanding between teams and families, harnesses carer expertise and reduces the risk of relapse or harm for the person
• Supports carers and families to maintain their own wellbeing, and reduce isolation, anxiety and exclusion.
Staff should discuss with service users how we share information with family, friends and carers, and ask them about:
• How they would like to be involved
• What the family know already
• Information that can't be shared, or concerns the service user may have about families having information
Service users should know that clinicians will usually try to speak to involved families and carers about their own perspective of the situation, and the family's support needs for themselves. Clinicians will agree with the service user about personal information that can be shared with carers in advance through the consent to share process.
Adult service users, and those young people deemed to be 'Gillick competent', have a right to confidentiality. ['Gillick competence' is a term used in medical law to decide whether a child (under 16 years of age) is able to consent to their own medical treatment, without the need for parental permission or knowledge. The standard is based on the 1985 decision of the House of
Lords in Gillick v West Norfolk and Wisbech Area Health Authority. The case is binding in England and Wales.]
In principle, younger children also have the right to confidentiality but the parent(s) with legally defined parental responsibility are able to make decisions on their behalf.
Information sharing with anyone not directly involved in the Service User's care, must be done in line with the principles outlined in Confidentiality: NHS code of Practice Confidentiality: NHS Code of Practice – GOV.UK (www.gov.uk)
Carers have their own right to confidentiality, and can ask for information they provide to be kept confidential from the service user. Where a carer shares confidential information about themselves, this should be stored in a separate Carer record.
Carers information booklet
Our Carers information booklet aims to provide some information about your involvement in the care we provide to your friend or relative but equally importantly, it aims to provide information about support for you in your caring role, from us and from other local organisations.
To request a copy of our Information for Carers booklet, email ghccomms@ghc.nhs.uk. 
Young carers are children and young people who take responsibility for the care of a family member, usually a parent or brother or sister, who have a disability, a serious illness, mental ill health or who have issues with substance misuse.
The care might range from basic household tasks to nursing care, or it might take the form of emotional support. If you are a young carer in Gloucestershire, please use the tabs below for information about the support available to you.
Young carers in Gloucestershire
Gloucestershire Young Carers
Information, advice and guidance
Assessment and support planning
Emotional support
Carers' voice
Telephone: 01452 733060 Email: www.glosyoungcarers.org.uk
Family Information Service
For information on family finances, finding and choosing childcare and local activities, parenting support, education and housing.
www.glosfamiliesdirectory.org.uk
Freephone: 0800 542 02 02
Direct line: 01452 427362
County Community Projects
Advocacy: free health and social care and statutory mental health advocacy service
Appropriate Adult Scheme: for young people and adults with mental health or learning difficulties held in police custody
Family mediation
Family support
Telephone: 01452 894594 or 0800 644 6448
www.ccp.org.uk 
Schools and Colleges
Many schools and colleges in Gloucestershire have a named young carer link worker. Please contact the appropriate school or college directly for details.
For safeguarding concerns in Gloucestershire, please contact the Gloucestershire Safeguarding Children Board or the Gloucestershire Safeguarding Adults Board.
General information and help
As a carer, you have a legal right to an assessment of your needs under the Care Act 2014.
A Carers' Assessment is not a test of your ability to care. It recognises your crucial role, and that supporting your emotional, physical and mental wellbeing is essential.
Depending on your needs and eligibility, an assessment may result in:
• A payment for you to spend on something that makes caring easier
• Some practical help for you, for example respite care
• Information and guidance about other ways your needs might be met
If you think this would be helpful or want to know more, staff can help you by putting you in touch with Gloucestershire Carers Hub, who will talk to you about:
• your needs and what you think will support you
• what services locally are available to help you
• how to access the services you are eligible for
Gloucestershire Carers Hub staff can help you decide whether you would like a formal carers assessment. You do not need to have a Carers' Assessment to be able to access much of the carer support available locally, free of charge.
This might include:
• information and guidance about support in the community
• emotional and wellbeing support for you
• courses and education about caring and looking after yourself
• contact with other carers in similar situations who know what you are going through and can share their experience
• Information about benefits and help to manage debt can also be very useful.
You don't need to live with the person you are supporting, or be caring full time, to speak to
Gloucestershire Carers Hub – you may be trying to juggle work and caring, and this is what is having a big impact on you.
You can also contact Gloucestershire Carers Hub yourself at any time, they do not require a referral from a professional to support you. Visit the Gloucestershire Carers' Hub website here: www.gloucestershirecarershub.co.uk
Arranging a Carers Assessment in Gloucestershire
If you have not been offered a Carers Assessment and you would like one, please speak to the named nurse or care coordinator of the person you care for to find out who does this with you. Most people find talking through the assessment with a member of staff from Gloucestershire Health and Care NHS Foundation Trust or Gloucestershire Carers Hub works best to identify what will help them. The assessment is a guided conversation about you and your needs so you should take some time to think about what is most important for you.
The Trust is a member of the Triangle of Care national scheme run by the Carers Trust. The Triangle of Care is a service which brings together carers, service users and professionals.
To see more about Triangle of Care, visit the Carers Trust website.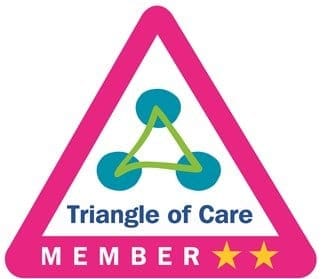 Our Carers' Charter was developed with, and for, carers as a joint statement of how we will work together to help make life better. The charter is based on our core values and is our pledge to you.
Whenever we can, we will be:
Seeing from your perspective
Recognising your expert knowledge and understanding of the person you care for
Seeking to understand what being a carer means to you
Providing you with an assessment of your needs
Recognising your health needs
Excelling and improving
Working in partnership with you to make sure you are involved in the care we provide
Undertaking regular reviews of feedback from carers
Providing staff training to further develop our knowledge and expertise of working with carers
Asking for your involvement in helping us to improve the experiences of carers using our services
Responsive
Making sure that you feel welcome in our care environments
Providing you with relevant information about their care, diagnosis and medication
Providing you with information about other organisations that can help you
Valuing and respectful
Listening to you and respecting your perspective
Taking note of what you tell us to help inform best clinical decisions
Respecting that parent carers, young carers and older carers will have different needs
Valuing you as a partner in the planning of care and treatment
Inclusive, open and honest
Including you by providing clear and accurate information about the needs of the person you care for
Letting you know what will happen in an emergency
Including you in meetings about the person that you care for
Can do
Involving you in the care and decisions about the person that you care for
Giving you a copy of the care plan
Seeking your views to help us make joint decisions about the care we provide
Effective, efficient, economic, equitable
Providing you with the opportunity to share important information to inform the care provided
Recognising and supporting your activities outside your caring role
Supporting you to access relevant services as your caring role and responsibilities change
Other organisations who can help or who partner with us.