Gloucestershire Health and Care NHS Foundation Trust is working on a new community hospital in the Forest of Dean which will replace Dilke Memorial Hospital and Lydney Community Hospital.
The new hospital is being built on the site of Collingwood Skatepark and Lower High Street Playing Field in Steam Mills Road, Cinderford, which will put it close to the town centre and make it as accessible as possible whether travelling by car or by public transport.
A new skatepark will be provided at Miner's Field (off Barleycorn Square) to replace the existing park at the Sports Field. This will locate the skate park more centrally within the town, offer better and safer access and will include the provision of lighting. The Town Council is investing alongside the NHS to add additional park and recreation facilities.
The Trust is also funding the resurfacing of the multi-use games area (off Coronation Road and Mount Pleasant Road) from the current concrete to a Sports England approved surface to make it usable all year round and for a wider range of sports and activities.
The hospital is expected to be completed during the 2023-24 financial year.
On the Horizon
Thursday 15 July 2021: Full Business Case presented to Gloucestershire Health and Care Board
Summer 2021: Application for Full Planning Permission, assuming Board approval
October 2021: Planning outcome and preparation for construction
Early 2022: Construction to start on site
Planning Update: October 2021
Our Trust is pleased to announce that a full planning application has been submitted for a new community hospital for the Forest of Dean.
This follows feedback from the Forest of Dean community and colleagues across the NHS as well as ongoing discussion with site neighbours and further work on the design and materials.
The application was submitted to Forest of Dean District Council on Friday 8 October. Full details of the application are available on the council website.
Angela Potter, Director for Strategy and Partnerships at the Trust, said: "I'd like to thank everyone in the Forest of Dean community who commented on our initial plans and drawings.
"We received a lot of feedback and have looked at everything we can to make positive changes to the building, such as taking ideas on material and colours to improve the appearance from different parts of the site.
"Some changes have been unavoidable – for example, the change in shape on one of the roofs is the result of new regulations on air exchangers due to covid. Our design team has worked extremely hard to create a hospital which is both pleasing and functions well."
The ward is made up of single rooms with ensuite facilities to minimise the risk of cross-infection and maintain infection control standards, and a purpose-built therapy gym for rehabilitation.
The design includes a Minor Injuries unit with separate adult and children waiting areas, x-ray, radiology and ultrasound services, consulting and treatment rooms for outpatient clinics, a children's clinic area, endoscopy suite and clinic space for dentistry and podiatry.
The hospital is also being designed with a focus on sustainability – aiming at an Excellent rating using the construction industry's BREEAM standards – to help reduce energy consumption and support an NHS ambition of net zero carbon emissions.
It is proposed that access to the site will be via a redesigned junction where the current skatepark entrance is located, leading to parking at the front of the site and the building positioned further back.
Trust Chief Executive Paul Roberts said: "Our Trust – and the wider NHS – has used all the expertise available to us to design a high-quality and sustainable hospital with services based on the needs of the community.
"I'm looking forward to the outcome of the planning application and moving ahead with this important piece of work for healthcare in the Forest of Dean."
As part of the hospital project the Trust will provide a new skatepark in Miner's Field – with a planning application for the design also in progress – and will upgrade the surface of the Mount Pleasant multi-use games area.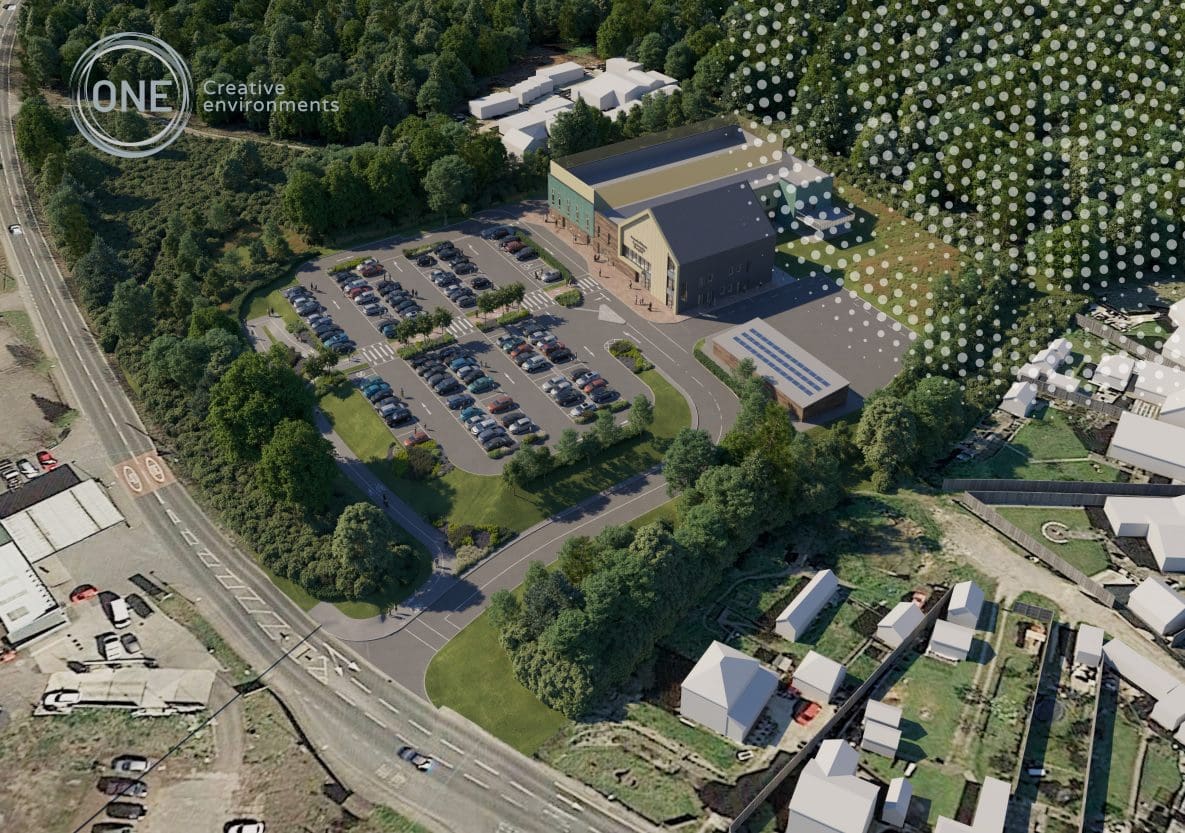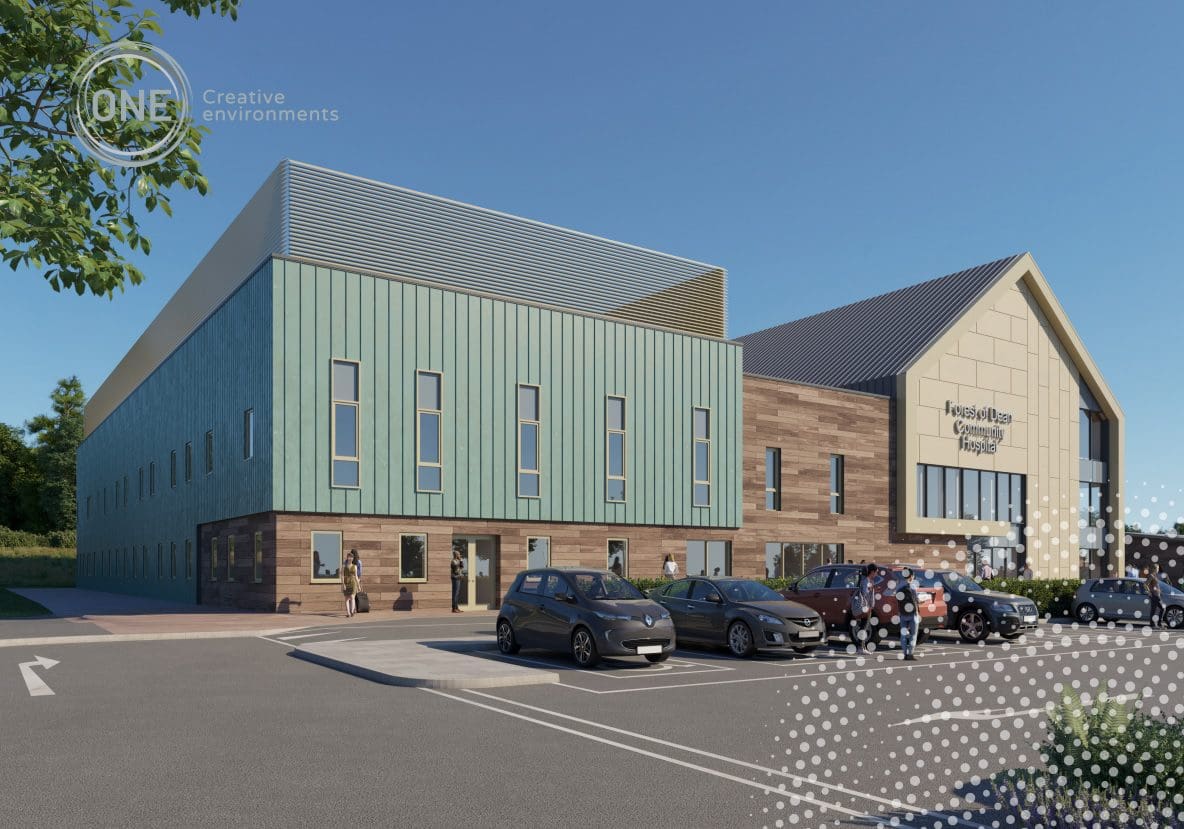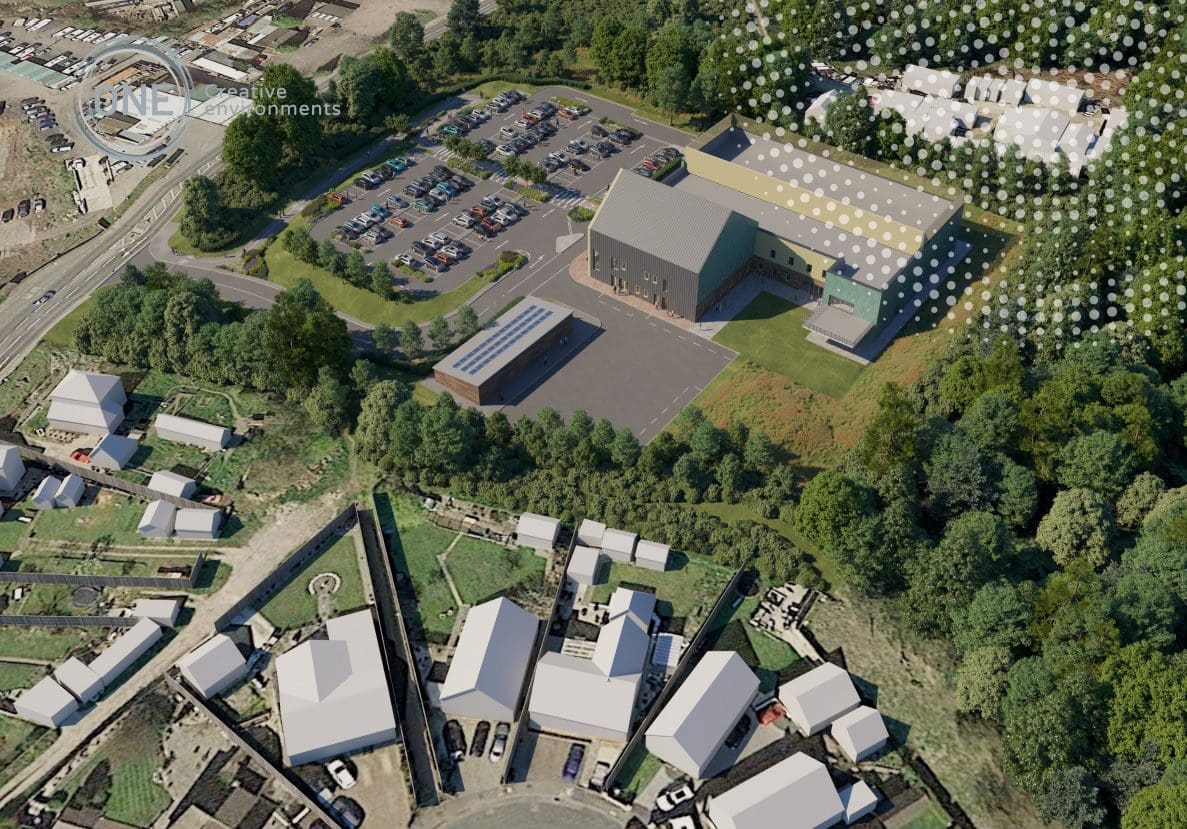 Planning Update: September 2021
Thank you to everyone who submitted comments in response to the publication in July 2021 of initial plans and drawings of the proposed new community hospital for the Forest of Dean.
Comments covered a range of themes, including the design, use of single rooms, overall bed numbers, maternity services and urgent care. Summary responses to some of the points raised are below.
Bed numbers
Bed modelling was conducted jointly with Gloucestershire Clinical Commissioning Group and we believe the design provides sufficient beds to meet the needs of the local population of the Forest of Dean.
Current activity patterns demonstrate more than 90 per cent of Forest residents are admitted to a bed in one of the Forest hospitals but that nearly half of the existing 47 beds in the Forest hospitals are occupied by people from outside the locality (particularly from Gloucester and Cheltenham). These people will access rehabilitation beds local to them.
Throughout the Covid pandemic, Dilke and Lydney have been operating at reduced capacity of 30 beds, with no impact on patient flow.
Maternity Services
This has been fully reviewed as part of service strategy development, and the average number of births per annum in the Forest of Dean district and the rights of women to choose the place in which they give birth was considered.
However, the option of a midwife-led unit or a birthing centre not taken forward on the basis that a clinically safe and sustainable service could not be provided.
The NHS will continue to promote home births for women where it is clinically safe and appropriate to do so.
Single Rooms
Our learning from Covid-19 has clearly demonstrated that single rooms are a much safer option for infection prevention and control.
Patients have increased privacy and dignity when they have their own room with their own en-suite bathroom, and are often more confident to move around their own room and use the bathroom rather than a commode by the bedside which helps keep them mobile.
There is a greater use of digital technology which enables patients to keep in touch with their loved ones via virtual means outside of normal visiting hours which they can do without disturbing others.
Urgent Care
We have been commissioned to include a minor injuries and illness unit, open seven days a week from 8am to 8pm, with diagnostic support within the hospital.
This forms part of wider network of urgent care services – NHS 111, pharmacies, primary care, community services such as rapid response, and the emergency departments at Cheltenham and Gloucester.
Design
All of your comments, questions and concerns have been shared with the design team, and we are doing all we can to work with ideas and proposals regarding design or materials.
The Trust has been in regular dialogue with neighbours to the site and will continue to do so as we continue the process towards a full planning application.
Planning Information: July 2021
The Trust invited comments on the design and impact of the hospital on the Steam Mills Road site in preparation for a full planning application. This process closed on Friday 23 July 2021.
Considerable work has gone into understanding the site, including the history of mining in the immediate vicinity, natural habitats present, water flow and drainage, and access requirements.
The hospital design will provide flexible space, be environmentally friendly and reflect the unique heritage and landscape of the Forest of Dean.
Access to the site will be via a new junction where the current skatepark entrance is located, with parking to the front of the site and the building positioned further back.
Prior decisions on the location of the hospital and services within it will not form part of this planning process. For details on how those decisions have been made, please see the 'Timeline' section below and visit www.fodhealth.nhs.uk
Services which have been agreed and commissioned for the hospital include:
Inpatient unit: 24 beds – all single rooms to ensure increased infection prevention and control and increased privacy and dignity
Outpatient services: a range of consultation rooms, treatment rooms, group room and space for remote consultations
Urgent care
Diagnostic services – x-ray, ultrasound, a new endoscopy unit and facilities to allow access for two mobile units
Parking for approximately 150 vehicles
Multi-function group rooms for use by the wider community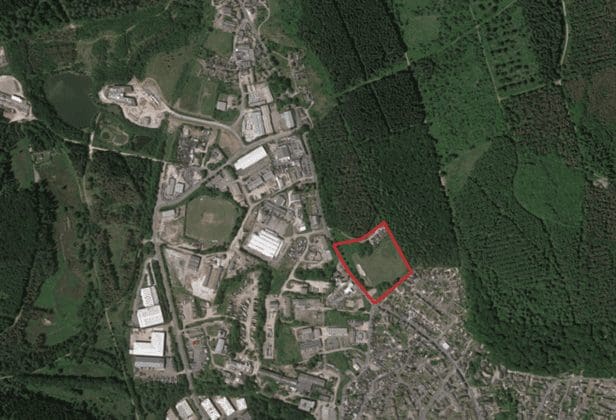 An aerial photo of the site location on Steam Mills Road
Timeline 2015-2021
Engagement and consultation processes have been ongoing in the Forest of Dean since 2015, run primarily by Gloucestershire Clinical Commissioning Group. Below is a summary of that work. Full details can be found at www.fodhealth.nhs.uk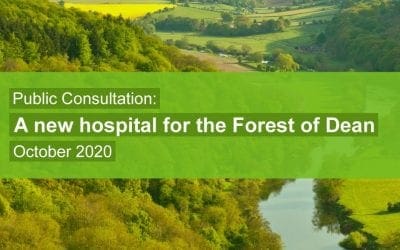 A Consultation inviting the public to comment on the proposals for the new community hospital in the Forest of Dean will launch on Thursday 22 October. Planning for the hospital is now at a stage where the proposals for the inpatient unit, outpatient services, urgent...