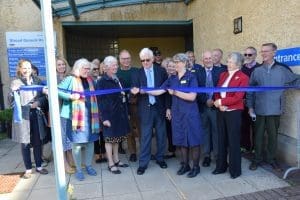 NHS colleagues and Stroud Hospital League of Friends jointly celebrated the official reopening of Stroud Hospital's Jubilee Ward and Minor Injuries and Illness Unit following a £2.5 million refurbishment.
The event, on Wednesday 12 October, marked the completion of a significant modernisation to some of the oldest parts of the hospital, which originally opened in 1875.
Trust chair Ingrid Barker and League of Friends Chair Roma Walker hosted a ceremony outside the hospital entrance. Then Matron Liz Lovett and former League of Friends chair Gordon Horner performed the official ribbon cutting before guests, including Stroud MP Siobhan Baillie, toured the upgraded facilities.
Ingrid said: "Welcome everyone to a wonderful day – the reopening of Stroud Minor Injuries and Illness Unit and Jubilee Ward.
"We're doing this as a joint welcome because the refurbishment has been very much a joint project.
"The generosity of the League of Friends has been greatly appreciated by our Trust.
"The first line of the NHS Constitution says 'The NHS belongs to the people' and nowhere is that more evident than in Stroud, where the people show their support through the League of Friends."
Roma added: "We've been able to donate more than half a million pounds for this project, and over the last five years the League of Friends has contributed £1.9m in funding.
"It's not us doing this – we support on behalf of the donors who give generously to the League of Friends. We couldn't do it without the appreciation of the people of Stroud for the hospital."
The MIIU has been completely remodelled with a new reception area, children's waiting and treatment area, separated assessment bays including one for isolation, larger consulting and treatment rooms, air handling and temperature controls and piped medical gases.
Jubilee Ward has been similarly refitted and remodelled with the inclusion of additional toilet and shower facilities, two larger single rooms with ensuite facilities, and ward office. The reminiscence room has been moved onto the ward, and again air handing, temperature control and add piped medical gases have been built in.
Work began in August 2021 and was scheduled to be complete by early 2022 but was held up by supply chain and workforce issues in the construction industry.
Throughout the rebuild patients were cared for on a temporary ward at Cirencester Hospital, while the MIIU operated from rooms in the Community Clinic on the nearby Stroud Maternity Hospital site.
Matron Liz Lovett said: "The ward and MIIU are very different now and colleagues are still getting accustomed to the changes, though they are all very proud of their new departments and we're glad to be back under one roof!
"I would like to say a big thank you to all my colleagues who were involved in the refurbishment, including the clinical staff, doctors, our facilities team, our admin team, and our porters.
"From a clinical perspective the layouts are much better, look very professional, and are welcoming and user friendly, and the reaction from patients has been very positive. Our focus now is on making sure the experience of patients, families and visitors is as good as it can be."