Young people are being encouraged to become NHS Cadets and gain valuable experience of volunteering in health and care in Gloucestershire.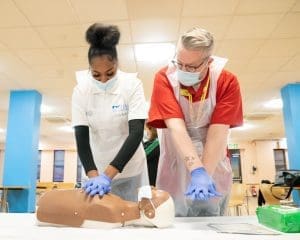 Gloucestershire Health and Care NHS Foundation Trust has signed up to the St John Ambulance programme – NHS Cadets – aimed at young people aged 14 to 18 to provide them with opportunities to explore roles in the NHS through health volunteering.
From physiotherapists to dieticians, radiographers and psychotherapists, to chefs, IT technicians, research scientists and communications officers, there are more than 350 career options within the health service, all of which make a crucial difference to people's lives.
GHCNHSFT's Director of Human Resources and Organisational Development, Neil Savage said, "The experience the cadets will gain through the programme at our hospitals will provide a unique insight into healthcare. NHS Cadets offers an exciting blend of training and practical experience to equip young people for a future in healthcare or other sectors."
The core aim of the programme is to expand opportunities for young people from underrepresented communities, and it delivers on key objectives of the NHS Long Term Plan, including investing in the future frontline workforce.
NHS Cadet Programme Lead, Emily Whyte, St John Ambulance, said: "St John has partnered with the Gloucestershire Health and Care NHS Foundation Trust on this ground-breaking programme offering learning with St John and patient care with the NHS.  We know that access to a career in health represents a brilliant future, especially for young people who have faced challenges in earlier life."
There has never been a better time to join up – find out more by emailing NHSCadets@sja.org.uk
For more information visit: https://nhscadets.sja.org.uk/