NHS colleagues and individuals with lived experience from Gloucester gathered at GL1 last week to unveil four portraits of participants in the 'My Life' program.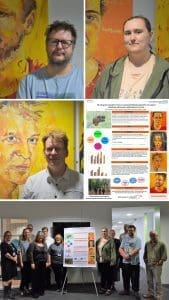 The event was the culmination of work that went into the My Life co-produced service evaluation project – a partnership between Gloucestershire Health and Care NHS Foundation Trust's Gloucester Recovery Team, Gloucester Mental Health Physiotherapy Team and Research team as well as Gloucestershire Hospitals and GL1 leisure centre.
Gloucestershire Health and Care NHS Foundation Trust Nicola Dowdeswell explains: "The My Life group was an education and a physical activity session led by the health and fitness consultants at GL1 -and that was key for us because we want people to continue and come back to the leisure centre after the program – they get used to the facility and the staff.
"Then afterwards it was about getting those connections – people talking about what they've done in the gym or talking about what they'd done that week or what they were finding difficult or what they were enjoying. What came from it was a real social connection because I know now people meet and they go out for meals and they go places and they feel like they've got friends.
"The lifestyle intervention was delivered as a partnership by myself in my role as a Research Champion and Physiotherapist with GL1 to increase physical activity levels for individuals under the Gloucester Recovery Team.
"From the service evaluation, we submitted an abstract which was presented as a poster  for the conference of Health and Care research at UWE, and will be presenting at Annual Conference for Physiotherapists in Mental Health in September and annual Physiotherapy Conference in November.
"There were more people in the 'My Life' group, but the four who have really, really given their time, their effort and their expertise, their humour, their conversation are Kirsty, Simon, Nigel and Schemeda, who are named as authors on the abstract because it is an  example of co-production at its best.
"We would not have got the attention at the conference if we'd have produced a standard poster. So we approached local artist  Russell Haines who produced the Tales of Gloucester and he agreed to collaborate with us. His personalised artwork on the poster was important to us to capture people's attention and highlight severe mental illness as a long term condition. As you can see, the poster is eye catching, and I think it's done just the job. It's just nailed it".
Helen Chidgey, Health & Fitness Manager at GL1 added: "When people come and visit this facility, they hopefully will get a feel for your story and the journey that you're on and the journey that they're also on. Because many people that come here now will look at the faces of the people here and they will all see something in that face that's similar to them. And for us, it's about that engagement. It's about making sure that people feel safe, comfortable and happy to use these wonderful facilities that we've got the pleasure of running".
The images are now on display at GL1 near the Health & Wellbeing Hub.