Dads in Herefordshire and Worcestershire can now prepare for parenthood with a new online resource called DadPad, because babies don't come with an instruction manual!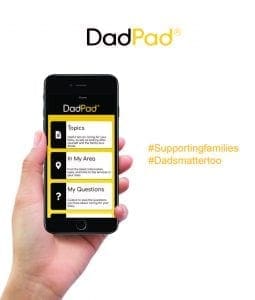 DadPad is an information pack developed by dads for dads is helping fathers in Herefordshire and Worcestershire prepare for family life and tackles the mental health issues which can affect new parents.
It covers a range of issues, such as the support dads can give while mums are breastfeeding, being aware of perinatal mental illness and the anxiety and frustrations that come with parenthood, as well as hands-on advice on issues like nappy changing. Its aim is to provide new fathers across Herefordshire and Worcestershire with guidance on how to develop the mind-set, confidence and practical skills needed to meet their baby's physical and emotional needs.
Christobel Hargraves, Chair of Herefordshire & Worcestershire Local Maternity and Neonatal System (LMNS): "We want to continue to improve the maternity experience for women and their families, and give every child the best start in life – so we are delighted to have commissioned this fantastic new resource which compliments this aim. There is traditionally lots of information, advice and support available for new mums, but often dads can feel equally unsure or overwhelmed. DadPad will help reduce anxiety for new dads in a number of ways – for example by helping them get involved with their baby's care and gain confidence; learn how to create a strong bond; and build a stronger family relationships, as well as providing links to other sources of information and advice."
DadPad was developed with the NHS by Inspire Cornwall CIC – a Cornish-based community interest company – it gives new dads and dads-to-be the knowledge and practical skills necessary to support themselves and their partner, so babies get the best possible start in life.
Julian Bose, Director of Inspire Cornwall CIC says: "We are excited to be launching DadPad, a bespoke new app for dads-to-be and new dads across Herefordshire and Worcestershire. DadPad was created because babies don't come with a set of instructions, and dads told us that there was important information that they wanted to be given on what to expect and how to care for their baby. We listened to what dads, their partners and health professionals asked for and combined it all in the DadPad."
Specialist perinatal mental health support in Worcestershire is provided by Worcestershire Health and Care NHS Trust, who recently launched 'Now We're Talking for Parents' Mental Health' campaign to raise awareness of perinatal mental health and encourage pregnant women and families to talk and seek support when experiencing moderate to severe mental health difficulties.
For more information about the Perinatal Mental Health service visit www.hacw.nhs.net/perinatal
You can follow the team on Twitter @WHCT_perinatal and on Facebook @WHCTperinatal